The game changing work supporting rabies elimination by 2030
Rabies is labelled a 'neglected tropical disease' by the WHO. This is because despite being responsible for an estimated 59,000 deaths every year, fragmented data and lack of awareness means it's not always at the top of political agendas.
But change is afoot. The Global Alliance for Rabies Control (GARC) has been focusing efforts in endemic regions to build capacity for national governments and support interventions. While its step-by-step guide to rabies elimination, the Stepwise Approach towards Rabies Elimination (SARE), could be a global game changer.
Ahead of World Rabies Day on September 28th – a reminder of the target to eliminate human rabies by 2030 – we spoke with GARC chief executive Professor Louis Nel to find out how its work is being received.
Your tools have been able to monitor actual human rabies cases – what results have you discovered?
If you cannot demonstrate the burden of a disease, it becomes unimportant and unfortunately, the data for rabies is very fragmented.
But in a few examples, we've managed to show that when countries start to properly report their cases, the actual cases exceed the number that was assumed by modelling.
For Kenya specifically, the estimated burden was 400-plus. And eventually, when they reported and started to actually diagnose these cases in 2017, 700 cases were recorded.
There's a lot of value in that we can demonstrate it as a very real health problem.
When you can demonstrate such a negative impact on the human population, why then is the importance of rabies elimination not always recognised?
Rabies diagnosis is not simple. You need a sample, a brain sample, to go to the laboratory. And because diagnosis isn't an easy process, it's often neglected. And, particularly, if it's in dogs in the developing world, when the dog dies, there's not much pressure to actually do a laboratory diagnosis and prove it had rabies.
That's why we have to improve surveillance and diagnosis, in order to prove the burden of the disease.
It's sometimes also a financial question. The countries just don't have the money to spend on diagnosing dogs. If we get the real cases and the real data out there, it obviously makes the case for investment.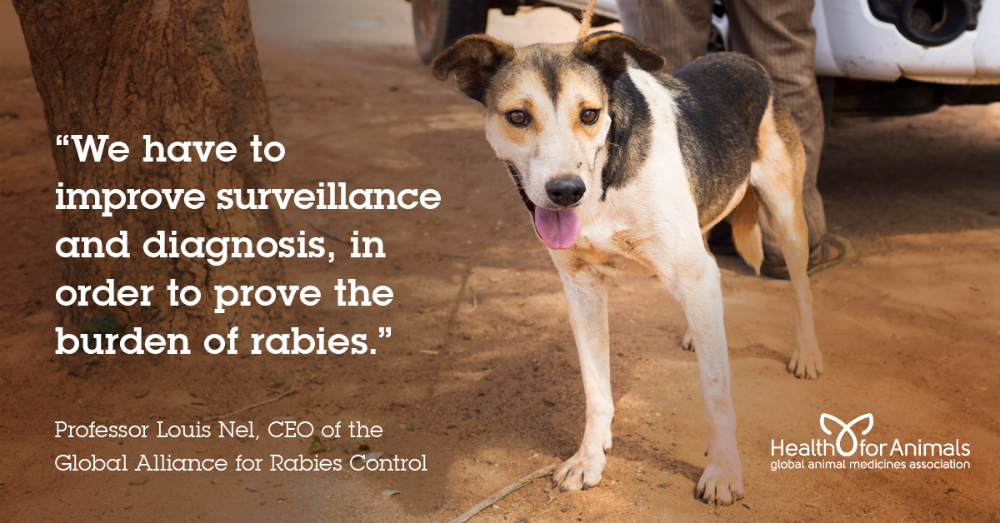 Results of a recent case study in the Philippines demonstrated the pivotal role canine rabies vaccinations play in rabies elimination – why is this so important?
In the Philippines we created close links with all the players, and in particular the government departments of health, agriculture, and education. And those then allowed for interventions at the community level. They even managed to get rabies integrated into the national school curriculum, and on different levels, pre-school, school, and post-school, so it's very comprehensive. It's the result of a culmination of many years of projects or interventions in the Philippines.
In the Philippines, the realization was eventually that, to protect humans, you have to vaccinate dogs.
And for some years, the Philippines department of health provided the budget to buy vaccines for dogs to protect human lives. I think this is a real paradigm shift.
India reports a 1/3rd of all rabies deaths each year. Why is the disease so prevalent in the country?
First of all, you must understand the sheer number of people in India, and dogs. The ratio between people and dogs are more or less the same so it's a huge number of animals.
India also has a very complex political system. Our efforts with the Indian provincial government are to convince them of the seriousness of rabies. Dog vaccination programmes are very limited, which is what we need to change.
Dog vaccination programmes are vital to human rabies elimination, which lends itself to a One Health approach – how important do you think this is?
In many places where we facilitate the country stepwise approach to rabies elimination in the national workshops, we would find that it's often the first time that key people from the department of health and agriculture have ever met.
So we are trying to change that and really give impetus to this concept of one health, and how necessary it is. One of the questions to answer on SARE in order to progress is to prove that you have total cooperation. The department of health, and the department of agriculture, need to work together through a one health approach.
I would say for one health to work, for that concept to work, it has to work for rabies.
But more than that – rabies affects dogs that are not economically vital, which makes it even more difficult. They don't have economic value, so spending money on dogs is not usually an automatic response from governments that are struggling.
Do you think we're on track to hit the 2030 elimination deadline?
We have to be. We are giving it our all. And I think it is possible to meet it.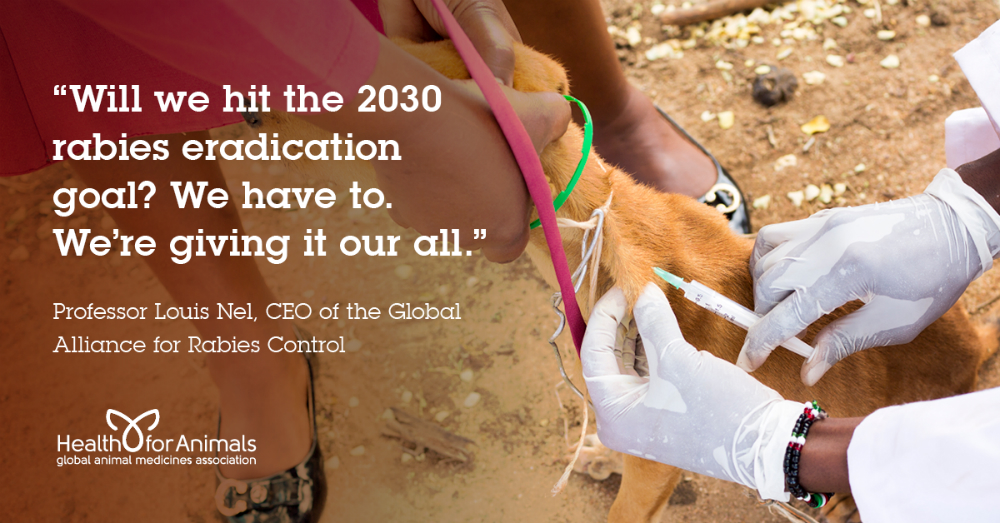 Professor Louis Nel of the University of Pretoria, South Africa is chief executive of the Global Alliance for Rabies Control (GARC). He studied chemistry before progressing to molecular biology where he worked on various animal viral diseases. He then began to specialize in rabies in the 1990s. Learn more about GARC at their website.
Did you know Latin America is close to being rabies free? Read on to find out more.