The Big Data Revolution in Animal Health
'Big data' has been a hot buzzword in human healthcare for years. As computers and applications become more powerful, we're able to analyse reams of data and discover new insights into disease. We're monitoring, controlling and treating diseases more effectively than ever before.
Until recently, this revolution was not as prominent in the animal health world. However, this is quickly changing. Here, we look at five ways big data is shaping the future of animal health.
1. Satellite data predicting disease outbreaks
In late 2006, careful observation of satellite data by a team of researchers (including NASA and WHO) accurately predicted the outbreak of Rift Valley fever in East Africa.
Areas with higher rainfall and denser green vegetation were identified as being at greater risk of the mosquito-borne disease. Paired with analysis of data spanning 60 years, the team uncovered a correlation between the El Nino weather system and outbreaks of the disease.
This allowed them to predict the 2006 outbreak, issuing warnings in September, before the first cases started to emerge two months later. This kind of analysis could buy governments and communities precious time in preparing for disease outbreaks and minimise the spread.
2. Wearable devices preventing sickness in ranch animals
Wearable technologies are playing an increasing role in disease prevention by alerting farmers to the early warning signs of outbreaks.

Tracking devices such as ear tags and biosensors can offer real-time data on an animal's vital signs, as well as behaviour, movement and feeding and watering habits – all potential markers for disease.
What's more, these devices can be plugged into a database to offer instant access to an animal's lineage, weight, health records and production history. It may be some time before we see this technology widely adopted, but advocates argue that it could save millions of cattle each year.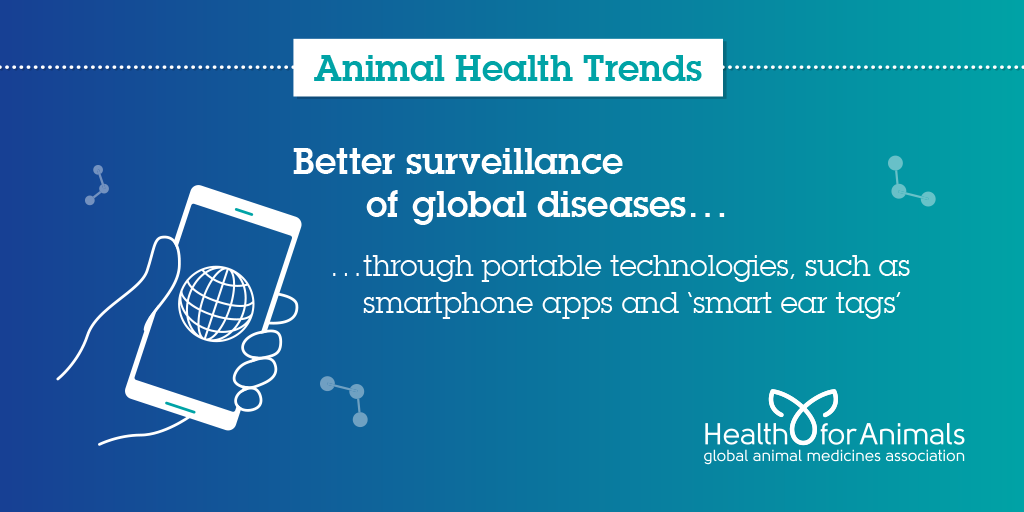 3. The mobile technology paving the way to efficiency
New apps and devices promise to vastly improve the diagnosis, treatment and management of disease.
One such app makes use of a bespoke stethoscope to wirelessly transmit an audio signal to confirm a diagnosis of bovine respiratory disease (BRD) in eight seconds. The recording is analysed, before an appropriate treatment plan is generated.
Other technology has the ability to analyse and enhance the reproductive capabilities of a herd or seek to understand the transmission paths of diseases. Meanwhile, farmers can share health data on virtual reporting platforms with production managers and veterinarians direct from the barn.
4. Apps connecting communities to share disease reports
Smartphone technology has enabled farmers, health workers and veterinarians in Uganda to report early signs of outbreaks and improve their collective response to threats.
Veterinary services and farmers can easily upload images and data to the app to share geo-referenced disease reports with the wider network.
Piloted by The Food and Agriculture Organization of the United Nations (FAO) and national veterinary authorities in Uganda, it's hoped the tool will be used in other countries to encourage monitoring, to generate early warning alerts and ultimately improve the response to disease.
5. Big data supporting sustainable agriculture
An article published by NASA describes how Australia's rangelands "provide an opportunity to sustainably produce meat without contributing to deforestation" if properly managed. A ranch owner in northern Australia is already using NASA Earth observation data to manage water resources, keep his land healthy by preventing over-grazing, and monitor the success of his interventions to promote rangeland health.
Elsewhere, researchers are using data from several NASA satellites to identify areas within the West African countries of Niger, Mali and Burkina Faso with agricultural potential, and to estimate the amount of food available.
Find out what other trends are taking place in the animal health industry here.