Preparing for the Veterinary Future
Change is inevitable across every sector, and veterinary care is no exception. But what does the future have in store for this industry? In part two of our interview with President of the World Small Veterinarian Association (WSAVA) Walt Ingwersen, we discuss how the trends of today may hold clues to the veterinary world of tomorrow.
How has the veterinary world changed in the last few years?
In all areas, we have moved quite dramatically away from fire engine medicine, which is "I have an ill animal, can you please help?". We now recognize that preventative healthcare is a key component of overall wellbeing for all animals, large and small.
We have also moved from the idea of general practitioners who periodically refer on to specialists, to having specialists as a key component of the team. Vets are now specialised in equine, companion animal or food producing.
At the same time, the role and value of the pet as a family member has grown, and this will continue, particularly in the developing world. My biggest concern here is that the desire to do anything possible for our pets may have a cost that puts specialized techniques out of reach for some.
As a profession, we need to address that, ideally through risk management and emphasizing the importance of pet insurance.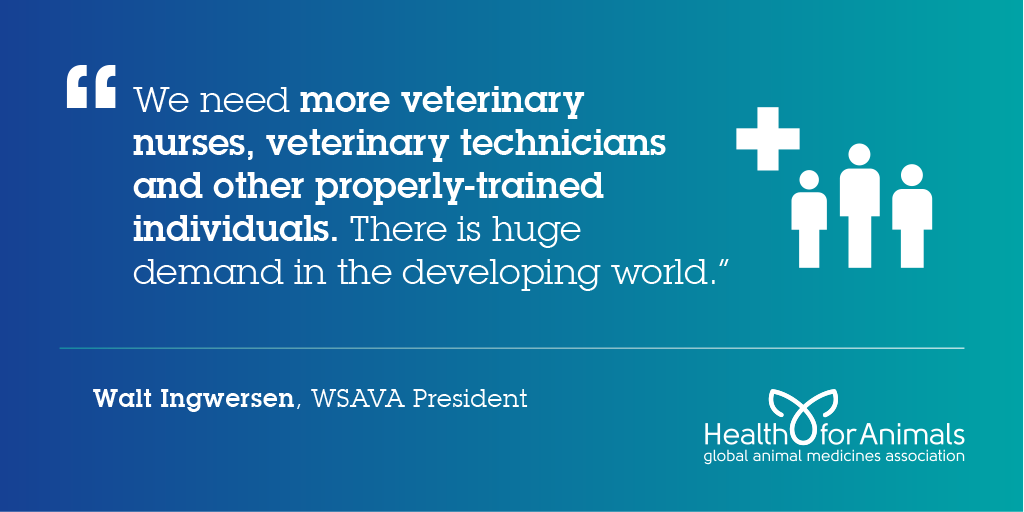 How does the profession need to change to meet future needs?
The greatest need is to reflect the changing approach to veterinary care; veterinarians are critical, but they are just one part of the team.
We need more veterinary nurses, veterinary technicians and other properly-trained individuals. Our members, particularly in the developing world, want veterinary nurses and technicians to be part of the team and to expand education. That's where the need is growing the most.
With this growing emphasis on a multi-disciplinary approach, is animal healthcare starting to mirror human healthcare?
It's starting to, because there are now varying degrees of expertise available to meet animal care needs. From an efficiency of scale and delivery of services point of view, it makes sense to start to move to more of a primary, secondary and tertiary care model.
The challenge with that is there almost becomes a disconnect in the veterinary/client/patient relationship. It becomes led by systems, rather than the individuals involved in that system.
One of the most amazing things about veterinary medicine that it is a very person-based service. While we are good at treating animals, we are only as good as our relationship with the owner, so we need to recognize the need for a balance.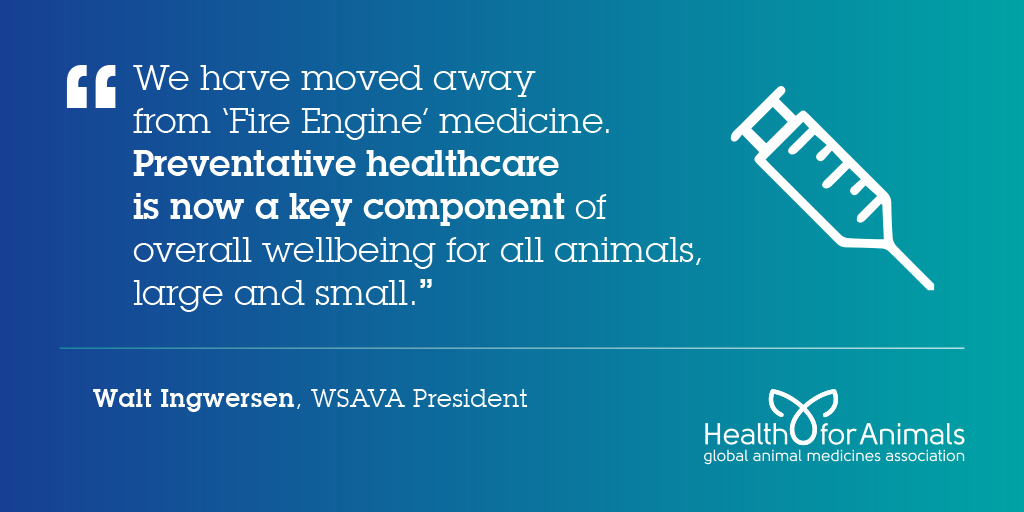 Do you think veterinary medicine is becoming more of a business?
I think today's education is leading veterinarians and other animal health professional services to become more like businesses. And part of that is a growing concern over veterinarians being burdened with debt when they graduate. It's an issue we need to be cautious of.
But at the same time, there is a common desire to work for the collective good. There has been a change in volunteering that now seems to be focused on having a tangible result.
Rather than getting involved from a broad veterinarian perspective to influence rules, regulations and policy, people want to have an immediate impact. It means many are getting involved in things like feral population control and rabies programmes, or building or supporting clinics in other parts of the world.
I'm really quite excited by this. At the WSAVA, we have seen a large number of veterinarians out there who want to become part of a global community. This will benefit not just the regions they are volunteering in, but also the profession as a whole.
What do changing attitudes to pet ownership tell us?
I think we all recognize from a One Health perspective that pets are not only an important part of the family, they are also an important part of the emotional wellbeing of that family.
Pets are now being considered as therapeutics — it's been shown that people with pets respond better after cardiovascular surgery, for example. People have a role to play in looking after the animals that look after them.
My message is take care of one another, especially from a preventative healthcare point of view.
What one thing could policy makers change to make a real difference?
From a policy point-of-view, we really need to change regulatory oversight. We need to continue to ensure safe and effective use of therapeutics, while addressing the global inequality in access to veterinary care.
Walt Ingwersen is the President of the World Small Veterinarian Association (WSAVA), and a companion animal veterinarian. For the past 12 years he has been working with Boehringer Ingelheim Canada Ltd, Vetmedica Companion Animal team. He has published more than 20 scientific articles and was a strong voice in creating standards for pet microchipping technology in North America.