Interview: Future of Livestock Digitalization
The conversation around digitalization and precision agriculture is often dominated by potential efficiencies and savings. But as a researcher at the cutting edge of these technologies, Professor Tomas Norton says their impact on improved health and wellbeing shouldn't be overlooked.
Digitalization has become something of an industry buzzword, alongside precision livestock. But how would you define these terms in animal health?
Precision livestock is just about paying attention to detail. In the past, precision agriculture was about using available technologies to enable farmers to carry out their processes in a more efficient way. It was based on optimizing the procedures the farmer went through every day, paying attention to the health, welfare and productivity of the farm.
Nowadays, to make the most of economies of scale, farmers need to have many more animals on their farm. And carrying out procedures in fine detail without the use of technology simply isn't possible. That's why we're moving more into the digital space.
It can be a conservative sector – what is the reaction to increasing digitalization?
A major barrier to uptake is return on investment – if it's not clear to the farmer he can make money by implementing this, he's not going to invest.
Another barrier is the generational factor. Almost a third of the farmers are aged over 65 in Europe , and they're very used to their traditional methods, so some are not getting to grips with the digital aspects.
Of course, another problem is that while the digital infrastructure is there in major cities, once you go into rural spaces, it becomes a significant issue. Which means the actual capacity for farmers to engage with these technologies is reduced.
You're a professor at KU Leuven – how responsive are your students to this new technology in livestock?
Traditionally, it's been quite a challenge to bring young people into livestock. But what we're finding
now more and more is that there's two things here. One angle is technology – the students are so keen to get in on all these new machine-learning approaches, artificial intelligence, convolution neural networks … all of this deep learning.
The other side is we're getting a lot more people coming from China especially, because China really sees the value in developing tools for livestock production, and they're really pushing the students to learn as much as possible in farming universities and bring the knowledge back [to their farms].
And is this more digitally-oriented generation seeing the industry differently?
Students are starting to see it's possible to build start-ups on technologies, and they want to get involved in the research. Not because they want to become academics, but because they see they can spin off knowledge-based technologies and tools by true start-ups.
And of course, the goal then is to try to be the next 'gazelle' (high-growth) or the next 'unicorn' start-up (valued at more than $1bn). Everybody is thinking that way. And it's fantastic, if we can drive the whole field further by bringing students with this ambition in, as well as those students who might have a more traditional view on research.
If you had to paint a picture of what a high-tech European livestock operation would look 20 years from now, what would it look like?
Well, I don't think we'll be talking about digitalization because it will just be accepted as part of farm operations. I think it's about what kind of solutions we need to enable farmers to reduce their emissions and improve their overall sustainability.
And at the same time recover energy from the waste streams of the farm, while trying to do some transformation processes to try to develop fertilizers, for instance, from manure.
From the swine side of things, there's the potential for zero-emission buildings, where pigs can express their behaviors as if they were in the natural environment. But each individual has its own identity, can be tracked and monitored for health.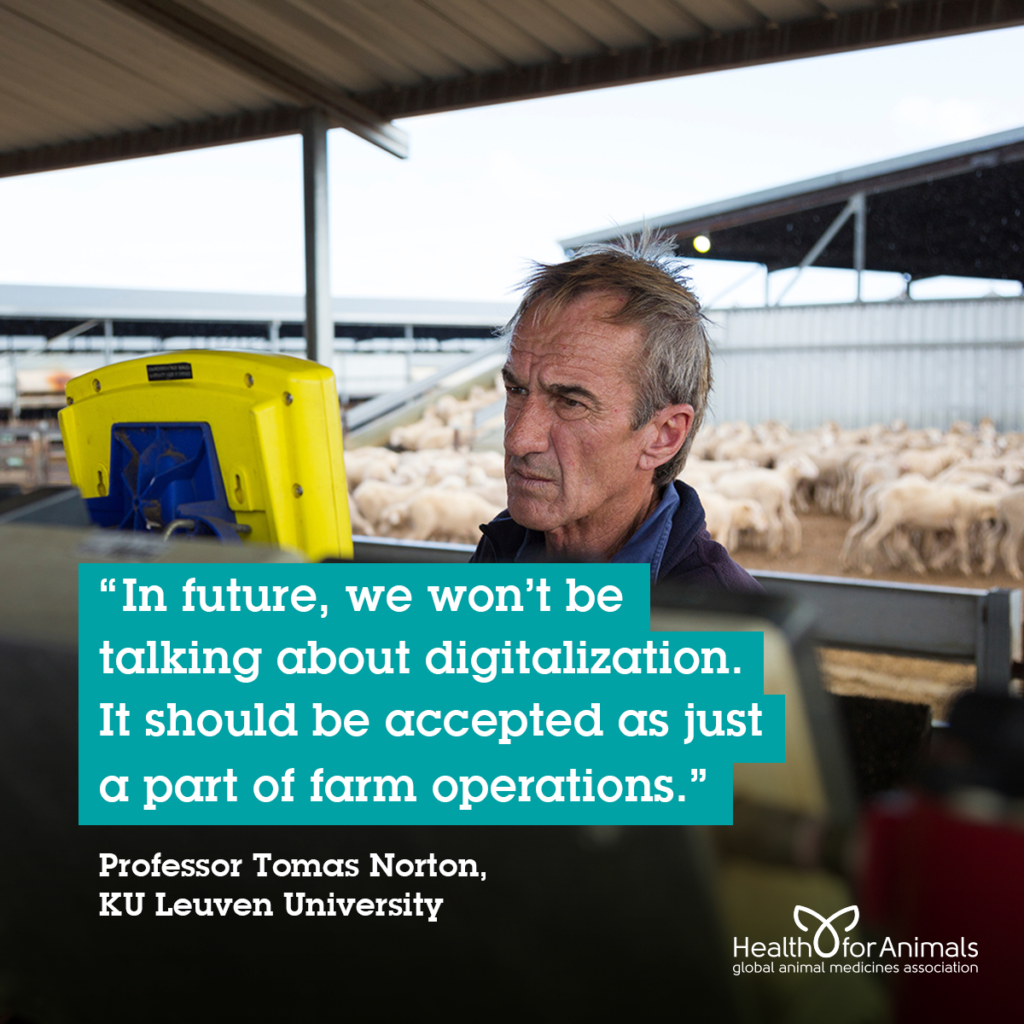 Do you think the message that these technologies can improve health and welfare is sometimes lost?
I think the message that's out there is that these technologies are only to increase efficiencies … which is not coming across in a good way. There are concerns that precision livestock farming will drive production in the wrong direction because it increases efficiencies in scale.
But this ignores the other information opportunities that are associated with the technology. Because in fact, the farmer is going to look to the technology to try to balance his productivity with animal welfare. It's all about that balance.
Professor Tomas Norton grew up on a family farm before studying and researching agricultural engineering. Today, he's professor of precision livestock at KU Leuven University in Belgium.