Resources

:
Antibiotics Commitment
Antibiotic Commitment
Antibiotics are key to treating infections in humans and animals – there are no alternatives to treating life-threatening bacterial infections. The world has recognized that antimicrobial resistance in humans is a challenge that costs lives.
Our vision is a world where veterinary antibiotics are used responsibly to protect and treat animals, and where they maintain their value as a therapeutic tool. An equally important challenge is maintaining and increasing food safety and security. To address these interconnected challenges, companies and organizations commit to five principles and practical actions, and will proactively encourage others to embrace them.

Principle 1: Protect animal health and welfare in a unified One Health approach
We will meet the ethical requirement of protecting animals by providing animal health products of the same high quality as products developed for people. In addressing AMR, we will take a One Health approach to cooperation, equally considering human and animal health, and environmental impact.
To address AMR, we will strengthen partnerships between animal health companies, farmers, veterinarians, retailers, authorities and associations. We will reach out to seek new solutions and ideas and are open to explore joint actions with others.
Supporting Actions:
Partnering with the Pan American Health Organization Foundation to support countries in Latin America in creating action plans to combat AMR in line with the World Health Organization's key pillars.
Building a 'European Platform for Responsible Use of Medicines in Animals' that brings together farmers, veterinarians, pharmacists, manufacturers and more to develop collaborative solutions.
Working directly with users of veterinary medicines in over 130 countries to build strong relationships and provide professional guidance.

Principle 2: Use antibiotics judiciously and responsibly
We promote the use of antibiotics for therapeutic reasons. Under the adage "as little as possible, as much as necessary", we will continue to promote responsible/judicious use by providing clear labels and good technical advice.
We recommend antibiotics be used under veterinary supervision where available. In countries that lack veterinary capabilities, imposing this requirement before addressing the shortage of veterinarians condemns animals to unnecessary suffering.
We will increase our efforts to encourage investment in better access to veterinary care. We actively contribute to the promotion of responsible use principles and practices in national responsible use coalitions.
Supporting Actions:
Creating GRAM (Guidance for the Rational use of AntiMicrobials), a comprehensive, 500-page global guide to responsible use created by independent experts. The guide improves diagnosis and treatments while providing key advice on managing resistance.
Training veterinary medicines users in responsible antibiotic use supported by detailed product labels outlining dose, withdrawal periods, and more.
Investing millions in the next generation of responsible veterinarians through scholarships and grant programs.
Principle 3: Promote disease prevention and increased access to products and expertise
We promote animal husbandry techniques that contribute to disease prevention by sharing our knowledge with producers. We commit to continuing to improve availability of vaccination.
We will seek maximum access and affordability of legitimate products to counter the use of illegal, low quality and fake products in some markets, and contribute to education and training on the dangers of their use. We will advocate for programs to increase the number of veterinarians in developing countries.
Supporting Actions:
Launching new apps that help producers in any region optimize vaccinations, identify disease and create prevention strategies specific to their farm.
Partnering with the Bill and Melinda Gates Foundation to train new veterinarians, develop diagnostic networks and bolster infrastructure in Africa and Southeast Asia.
Creating new packaging to thwart counterfeiters and working with national governments to warn producers of the risks of illegal medicines.

Principle 4: Invest in developments of products for prevention and treatment
We will invest in new products that reduce reliance on antibiotics. As animal health companies we will invest between 6%–9% of our annual turnover in the development of new products, diagnostics, genetics and life-cycle management of existing products. Global annual animal health sector revenues are estimated at US$30 billion. Assuming companies not part of HealthforAnimals also invest a similar percentage, this equates to an annual investment of US$1.8–2.7 billion for prevention and treatment options for food and companion animals. Investment at these levels for new solutions is commercially viable only if rising cost factors like regulatory cost are reduced. We encourage governments to: increase incentives for new technological advances, facilitate regulatory pathways for all types of products, encourage increased uptake of vaccination, and support availability and access to veterinarians.
Supporting Actions:
Creating first-of-its kind, new technologies that allow for herd-specific custom vaccines for animals. These provide effective care targeted to specific animals.
Developing nutritional supplements that bolster an animal's natural immune system, which can reduce disease and decrease the need for antibiotics.
Introducing new, animal-only antibiotics that offer veterinarians a way to tackle disease that pose virtually no risk of contributing to resistance in humans.

Principle 5: Increase knowledge, transparency and communication
We support science and evidence-based solutions. Many animal health companies undertake scientific research into AMR pathways, and we support other groups in their research.
We will continue to contribute to the collection of national and international antibiotic use data. We will encourage producers and retailers to be transparent about animal health and welfare impacts resulting from antibiotic-free production practices.
We will increase our communications efforts about responsible use, vaccination and alternatives and continue to provide data and advice to our customers on managing diseases.
Supporting Actions:
Contributing to antibiotics surveys like the European Medicines Agency's ESVAC report (European Surveillance of Veterinary Antimicrobial Consumption Report).
Creating web-based tools and training front-line representatives to use integrated analytics to predict disease risk, improve prevention and design sustainable solutions specific to individual farms.
Collaborating with research organisations and universities to better understand antimicrobial resistance; funding research on AMR in foodborne pathogens
These actions are just a sample of the work done across the animal health industry to support responsible antibiotic use. To learn more or to find out how to become a Commitment signatory, contact us.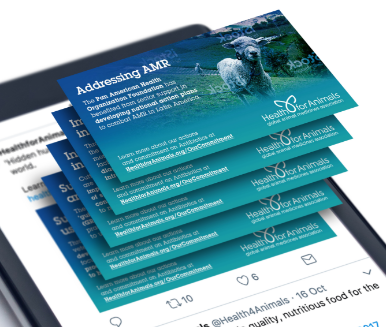 Support the Commitment by sharing these graphics on your social channels
This Commitment is supported by organizations representing over 200 companies and 700,000 veterinarians worldwide.